Clients » Testimonials
Our clients are the best measure of our success. Below are some of the testimonials from our clients.


Turnaround time is consistently excellent. Thank you for helping us exceed our clients' expectations!

---

Alles prima, weiter so!


--

Regina Schlindwein, Germany
---

Service has always been very good.

---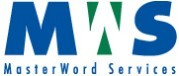 I really enjoy working with your company. You have delivered the projects on time or early for every request. Keep up the great work.

Thanks for all your help as well as your timely responses and prompt deliveries.

I have been very satisfied with the quality of translation, fast turnaround deliveries, and friendly cooperation of your coordinators. Irene and Sharon both do fantastic work and it is always a pleasure to work with them.

---

Our collaboration has started fine. You have an excellent response time to mails which is very important in managing the projects, and the projects run smoothly.


--

Annika Perho, Finland, Vendor Manager, Nouveau Language
---

Overall I thoroughly enjoy working with MTS. Yolanda and Carolyn are always great to work with and very responsive.

Give Yolanda and Carolyn a pay rise and promotion. They've offered invaluable help on countless occasions!

People from MTS are all very helpful and friendly, the response is quick. I enjoy working with them.

English into Chinese is very satisfactory. Yolanda and Carolyn are Super nice!!! Couldn't live without them.

MTS is the nicest team I have ever met, very responsive, responsible and high quality.
Yolanda and Carolyn are very nice and helpful all the time.
In General, I am satisfied by the services provided by MTS.